Former LA Times reporter reviews White Girl Bleed a Lot
David Kinchen was a reporter at the LA Times for more than ten years. Someday, we'll get him to tell us how he lasted that long.
He wrote a review of White Girl Bleed a Lot for a West Virginia outlet. Here it is:
BOOK REVIEW: 'White Girl Bleed a Lot': Color Blindness in Crime Reporting Misleads Everybody | Huntington News
BOOK REVIEW: 'White Girl Bleed a Lot': Color Blindness in Crime Reporting Misleads Everybody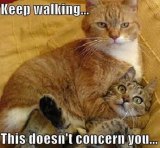 One of my favorite cat pictures — I'm a cat person — has one cat with his paws around another cat's neck, with the caption : "Keep walking…this doesn't concern you".
I mention this because Colin Flaherty's "White Girl Bleed a Lot: The Return of Racial Violence to America and How the Media Ignore It"  (WND Books, 416 pages, $17.95 trade paperback, revised 2013 edition, also in eBook editions, notes, sources, links to YouTubes, index) says this is the attitude about the American phenomenon of black "youths"  or "teens" (that's how they're often identified, with no racial description)  attacking whites and Asians in cities across the country.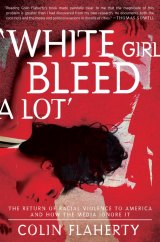 Flaherty points out — providing dozens of examples — that editors ignore the fact that the vast majority of the attacks are perpetrated by young blacks — male and female — against whites, gays, Jews and others deemed to be weak who won't defend themselves.
In many cases, the attacks aren't even in crime statistics, because police don't include them — or fail to file reports. Cops in several cities are telling potential victims to arm themselves — and they are, with results that are deemed "vigilantism" by left-leaning journalists, "civil rights" leaders and the other usual suspects.
I first became aware of this phenomenon that has spread like a toxic rash across the nation when I read of an attack in Milwaukee that gave Flaherty the title of his book. A group of white picnickers were attacked by a group of blacks in Brew City, with one teen-age black girl commenting "White girl bleed a lot."
Flaherty includes this incident in his book, along with the 2011 race riot at the Wisconsin State Fair in West Allis, a suburb of Milwaukee, the incident that prompted my columns. I was a reporter/editor at The Milwaukee Sentinel from 1967 to 1976, so this was a natural for me to blog about. I had always known about the underreported violence in Milwaukee, which is becoming a majority black city similar to its much larger neighbor to the south, Chicago.
Finish here:  BOOK REVIEW: 'White Girl Bleed a Lot': Color Blindness in Crime Reporting Misleads Everybody | Huntington News